Choosing the right cabinets and vanities for your remodeled bathroom is critical in creating a well-designed and user-friendly space. In addition to the cabinet style and finish, quality craftsmanship is of utmost importance to ensure the longevity of your remodel. That's why Hatchett Design Remodel works with companies like Mid Continent Cabinetry.
About Mid Continent Cabinetry
Mid Continent Cabinetry is a long-time partner of ours. With a wide array of customizable bathroom cabinets and vanities, we know you'll be happy with your new cabinets for many years to come.
Their bathroom cabinet collection provides furniture-quality storage in a variety of styles, colors and finishes to suit any design, including under-sink storage, wall storage, or classic vanity storage.
Bathroom Cabinet Storage
The Scudder master bath cabinets are maple and are painted white. This customized combination of cabinetry provides both under-sink storage and two types of wall storage from Mid Continent's Towne collection. On the far left side, we installed a wall unit with cabinet doors that allows items to be hidden away from plain sight.
However, between the sinks, we chose an open shelving model for easy access to those items that are used daily.
Vanities for Aging in Place
In the Buckalews' bathroom, their vanity and wall cabinet are made of oak and finished in a slate stain. The enclosed wall cabinet features Mid Continent's Concord door style. To the left of the wall unit, we installed an under-sink storage vanity with Concord doors. Then to the right, they chose a wheelchair-accessible sink cabinet.  Thoughtfully customized designs like this one allow homeowners to age in place as they head into and beyond retirement.
Traditional Vanities
During the Robinette's master bath remodel, they decided to remove the large soaking tub. This choice allowed room for all three types of Mid Continents storage cabinets. On one side of the bathroom, they have double under-sink storage vanities and a wall storage cabinet.
Photo Real Design Rendering
In place of the old tub they rarely used, Mrs. Robinette was thrilled to finally have a traditional vanity where she can sit and prepare for her day. These Mid Continent bathroom cabinets are cherry with a cranberry stain and black glaze.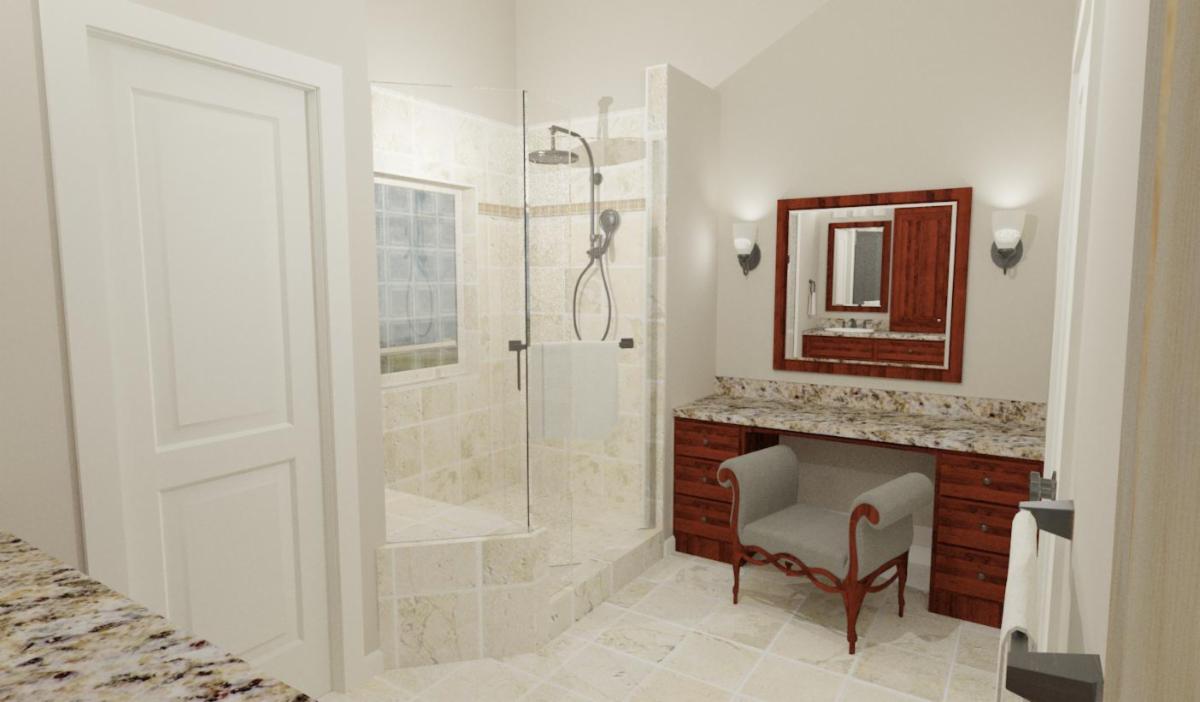 Photo Real Design Rendering
Customizable Storage
The various types of cabinet storage allow us to customize a bathroom design that suits your daily needs as well as your style. There are also a number of built-in cabinet features that greatly improve the functionality of your new space, from hot tool storage to pull-out hampers. Be sure to talk to your designer about the available options in Mid Continent's bathroom cabinet collection.
Visit our showrooms in Newport News or Virginia Beach to check out Mid Continent cabinets in person. We're open Monday through Friday or by appointment. This month is the last month to save up to $1000 off a full bathroom remodel, so give us a call today and set up your free consultation. Remember, it costs nothing to ask.