The Harrisons decided to settle down in Norfolk after over 20 years of moving with the military. Their new home is perfect for them, but there were updates they wanted to make. They decided to remodel the kitchen first, so they called Hatchett Design Remodel.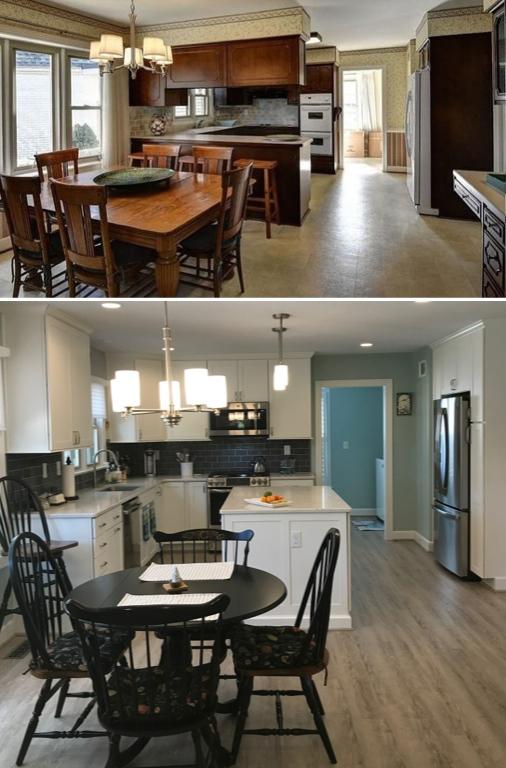 Harrison Kitchen Before (top) and After (bottom)
Initial Consultation
In our initial consultation, we discussed removing soffits as well the peninsula and wall cabinets. Doing this would allow space for a kitchen island. For added storage, our design included tall pantry cabinets.
Ashley, the designer, noticed that the Harrisons enjoyed drinking coffee very much, yet their coffee maker was squeezed into a tight corner next to the refrigerator. For the redesign, Ashley designated an area specifically as a coffee bar for their daily enjoyment as well as for entertaining.
Harrison Kitchen Before (top) and After (bottom)
Removing Walls
The original kitchen and living room were separated by a wall, and the Harrisons didn't like it. Instead of completely removing the wall, we created a wet bar area in its place. Since they wanted to keep the existing carpet in the living room, we carefully removed the wall without damaging the carpet.
Harrison Remodel Before (left) and After (right)
Choosing the Right Materials
The structural changes made a huge difference in the overall design, but the materials we chose for the Harrison's kitchen were instrumental in creating a bright and inviting space. The old, dark cabinets were replaced with white painted cabinets from Mid Continent, and topped with Atlantic Quartz from Reston Countertops.
The brushed nickel Charlotte pulls from Top Knobs complement the light colored cabinets, countertops and stainless steel appliances, while the Angora crystal glass tile backsplash creates a beautiful contrast.
To finish off the look, we opted for soft tones for the floors and the walls. The flooring is Stafford's Parkhill Collection from Earthwerks, and the paint is Benjamin Moore Palladian Blue.
The Harrisons were so pleased with their remodel by Hatchett that they gave us all fours on our customer service survey! Big shout out to the our design team: Jake & Meghan, Design Consultants; Ashley, Designer; and Dennis, Project Manager.

If you're ready to remodel your kitchen (or any room in your house), reach out to Hatchett Design Remodel. You can call us or come by our showrooms in Newport News or Virginia Beach. Like Don always says, "it costs nothing to ask!"