Among the decisions you face during a kitchen remodel is choosing your appliances, and one of which is your stove. When selecting the right range, there's more to consider than size and finish. Most serious cooks prefer gas stoves for the heat control, while homeowners who want easy clean-up opt for a smooth top electric. However, Hatchett Design Remodel offers a third option that provides the best of both worlds – induction!

Jessica, one of Hatchett's designers, recommends induction ranges to her clients. She tries "to direct everyone who wants gas to choose induction, because it's easier to control, more energy efficient, and safer."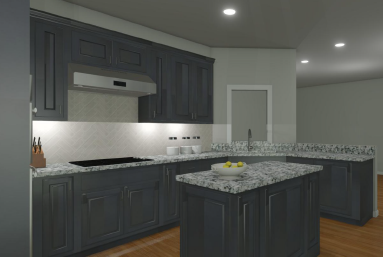 Raytrace Design Rendering featuring Induction Cooktop with Under Cabinet Hood
What Is Induction Cooking?
This article explains each of her points in detail, but first it explains what it is. Induction cooking "uses electromagnetic energy to heat pots and pans directly." This means that your cookware gets hot while the stove top itself remains room temperature.  The article goes on to explain, it  "is able to deliver roughly 80% to 90% of its electromagnetic energy to the food in the pan." Electric burners convert about 70% of its energy, while gas stoves only convert roughly 38%.
Induction Cooktop with Retractable Downdraft Range Hood
Energy Efficiency
Another article cites a new report from Curbed that points out that many cities are pushing for homeowners to stop cooking with gas, because of its effects on climate change. It states that "the movement is an effort to cut down on the 560 million tons of carbon dioxide emissions released each year."
It goes on to point out that "electric stoves are twice as energy efficient." So while electric is two times more efficient than gas, induction cooktops are even more efficient than traditional electric cooktops.
Induction Cooktop with Wall Mounted Hood
The Advantages
For those skeptical chefs out there who are die hard gas fans, give induction a chance. It provides easy and quick temperature control by achieving a wide range of temperatures faster than its electric or gas counterparts. As a bonus, the cooktop itself remains cool to the touch the moment the pot leaves the surface. The cooktop isn't what gets hot; it's the pot that heats up. This is why induction ranges are safer for families with small children.
When you're ready to remodel your kitchen, talk to your designer about an induction range. You may also
call
or visit our
showrooms
in Newport News or Virginia Beach. And remember, it costs nothing to ask!