Tina Brady's home in Norfolk was built in 1912. Like most homes from that era, the kitchen was small and the laundry room was in the basement.
Brady Kitchen BEFORE
The only way to enlarge her kitchen, bring the laundry up to the main level and add a half bath was to build an addition, and she knew Hatchett was right for the job.
Brady Kitchen Photo-Real Design Rendering
New Addition to Old Construction
Building an addition is a sizeable chore, but adding on to an old house brings a unique set of challenges… ones that aren't usually fully revealed until demo begins. After many conversations and plan revisions, Hatchett's Design Team figured out the best solution.
Brady Kitchen AFTER
Once the structural issues were resolved, the next priority was to keep the design of the renovation true to the traditional style her home. A classic color palette of whites and grays helped create an updated design that hearkens back to times past.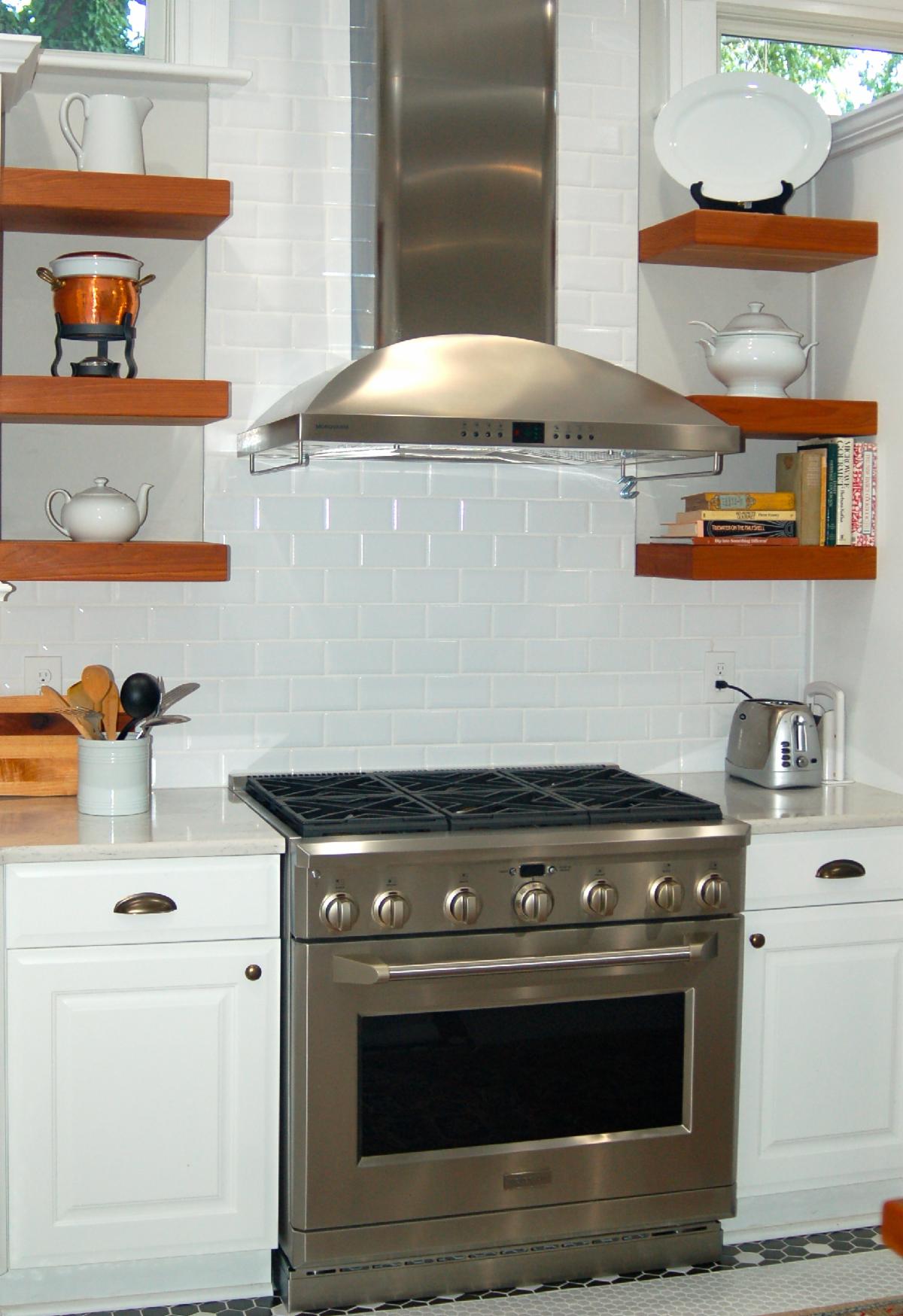 Brady Kitchen AFTER
Material Selections
Tina chose maple Ultracraft cabinets that are painted Arctic White and feature the Royalton door style. She opted to complement her cabinets with Silestone Lyra polished countertops and Ice White beveled subway tile for the backsplash.
Brady Kitchen AFTER
For contrast, we incorporated cherry wood accents from Southside Woodshop into the design. Both the island top and floating shelves are American Cherry treated with Food Safe Mineral Oil.
Brady Kitchen AFTER
The warmth of her new kitchen comes from these cherry wood features as well as the brick of the original chimney.
Brady Kitchen AFTER
The black and white tile floor with its custom designed border are stunning and add an air of nostalgia to the space. We used a combination of Retro and Metro hexagon mosaic tiles to create the pattern.
Brady Remodel Laundry Room Photo-Real Design Rendering
 Bathroom & Laundry Room
The border runs along the perimeter of the kitchen cabinets and through the adjoining laundry room and half bath – which pulls the new spaces together seamlessly.
Brady Remodel Half Bath Photo-Real Rendering
Tina and her adorably huge Great Dane, Sophie, are enjoying every new day in their timelessly beautiful and spacious kitchen addition. Kudos to our Design Team: Michael, Design Consultant; Eileen, Designer; and Dennis, Project Manager.
Whether you're looking to build a whole new addition or simply remodel your kitchen or bathroom, Hatchett can help. Call or come by our showrooms in Newport News and Virginia Beach. It costs nothing to ask!