Hatchett Design Remodel believes that universal design is important to all of our clients, and it is especially important to homeowners who plan to age in place. That is why we recently hosted a universal design workshop for our entire design team from both our Newport News and Virginia Beach showrooms. This workshop, led by Dr. Kathleen Rose Parrot, helps remodelers empathize with the every day challenges faced by people with disabilities by simulating similar experiences.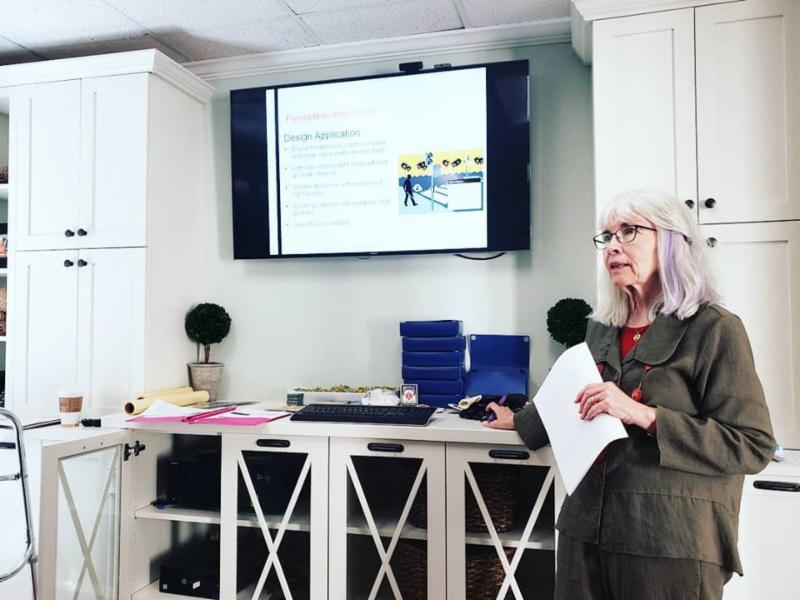 As a highly respected expert in home remodeling and design, Dr. Parrot authored the textbooks for the National Kitchen and Bath Association (NKBA) accredited major. She also happens to be Jessica's former professor at Virginia Tech. Dr. Parrot is a huge influence in her design career, so Jessica was very excited to share her mentor with her Hatchett family.
Hands On Experience
In the workshop, Dr. Parrot asked our team to "try on" various disabilities by wearing special types of gear, like glasses and gloves. Then she asked us to attempt "simple" tasks, such as gripping knobs and reading displays on appliances. While we might think we understand how hard common household tasks may be for people with disabilities, it's an entirely different level of understanding to experience a similar type of challenge first hand.
Understanding the Challenges
The truth is that many standards in home design create accessibility and usability challenges for the disabled. A universally designed space, however, can be accessed, understood and used to the greatest extent possible by all people regardless of their age, size, ability or disability.
The Value of Universal Design
While you may not currently feel hindered in your home, it is still important to consider universal design options when remodeling your kitchen, bathroom or addition. A universal design will improve the livability of your home for both residents and visitors for years to come. Universal features, like widened entry ways, curbless showers, and lowered or raised kitchen appliances, can be worked into any custom design by Hatchett.
Dr. Parrot's workshop made us even more aware of how our remodeling recommendations will impact homeowners in the near and distant future. This experience will forever influence the thoughtfully designed spaces we create for our clients. To learn more about the universal design options for your upcoming remodel, reach out to our design team at Hatchett Design Remodel. Just call or visit our showrooms in Newport News or Virginia Beach… it costs nothing to ask!