There are some fun trends emerging in bathroom design this year. Hatchett Design Remodel, located in Virginia Beach and Newport News, has hand-picked a few of our favorites.
Open Concept
The concept of an open floor plan has been popular in kitchens for decades, and now designers are carrying that concept into master bathrooms. Homeowners enjoy the spaciousness created by removing the wall that separates the master bedroom from the master bath. Those who have concerns about privacy, fear not. Enclosed lavatories, sliding barriers and privacy glass are potential solutions for modest homeowners.
Photo Credit Dwell on Pinterest
Vanities Over Windows
Windows can make a bathroom remodel challenging, because they limit a designer's options as she or he reworks the footprint of the space. Therefore, clever designers are now rethinking traditional "rules". Locating the vanity under the window might be the most efficient use of the space, and it allows you to take advantage of the natural light. The vanity mirror can be suspended from the ceiling, mounted on a swing arm or hung from barn door hardware.
Photo Credit One Kindesign on Pinterest
Exposed Plumbing
The industrial design style has gained momentum in 2019. Inspired by the raw simplicity of warehouse interiors, this urban aesthetic embraces the beauty of construction materials that are usually concealed by walls. In bathrooms, exposed shower plumbing adds a touch of unfinished chic to your renovated space.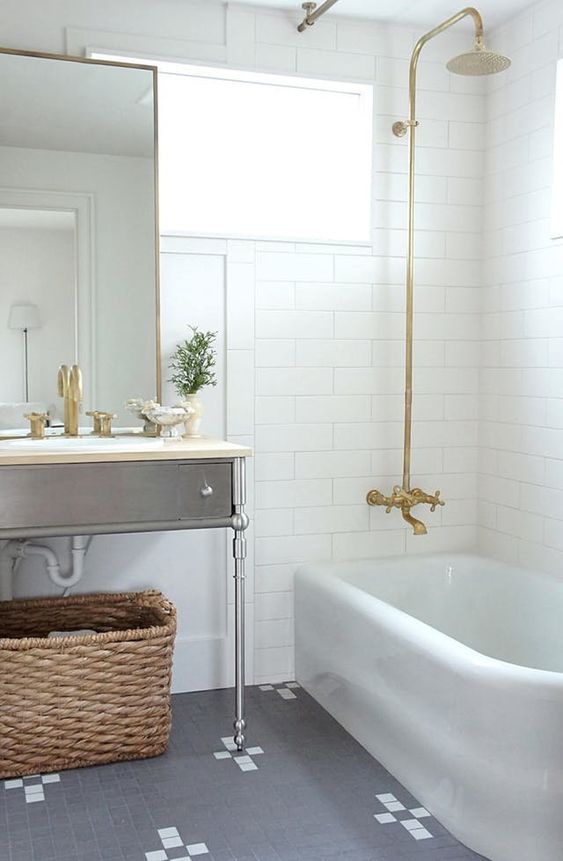 Photo Credit Apartment Therapy on Pinterest
Hidden Shower Drain
Ironically, while exposing the intake lines of your shower plumbing is trending, so is hiding the outtake.  Linear drains discreetly placed under the shower flooring help create a stream-lined, seamless look.
Photo Credit House Beautiful on Pinterest
Statement Wall
This design trend adds both character and depth to your bathroom. A statement wall pulls the eye through the space thereby making it appear larger. To create this type of focal point, tile or wallpaper one entire wall, and don't be afraid to go bold – the bolder, the better!
Photo Credit Amber Interiors on Pinterest
Feeling inspired to remodel? Reach out to our design team, and let's start the conversation. Call Hatchett Design Remodel or visit our showrooms in Newport News or Virginia Beach… it costs nothing to ask!