The Perries are a military family that have spent the past several decades on the move.  They have since retired and are happily settled into their home in Yorktown.  While they love their house, the Perries wanted to make some improvements to help them enjoy their home for many years to come… so they called Hatchett Design Remodel.
First priority on the list – the kitchen!  Mrs. Perrie loves to cook and bake.  We are speaking from experience when we say that she's very good at it!  As a serious cook, she didn't just want a pretty new kitchen, she needed a highly functional one.
To customize her kitchen, we installed two side-by-side wall ovens instead of stacking them, so she wouldn't have to reach or bend down while baking.  And in addition to the oversized sink for washing large pots and pans, we added a single bowl prep sink in the island with easy access from both sides.
Storage was a hot button for Mrs. Perrie as well, so we designed and built a custom spice wall in her pantry to keep her spices organized and easy to find.
Other features that made the Perrie kitchen more user friendly are an appliance cabinet with a lift up shelf for her heavy Kitchen Aid mixer and toe kick lighting along the base boards.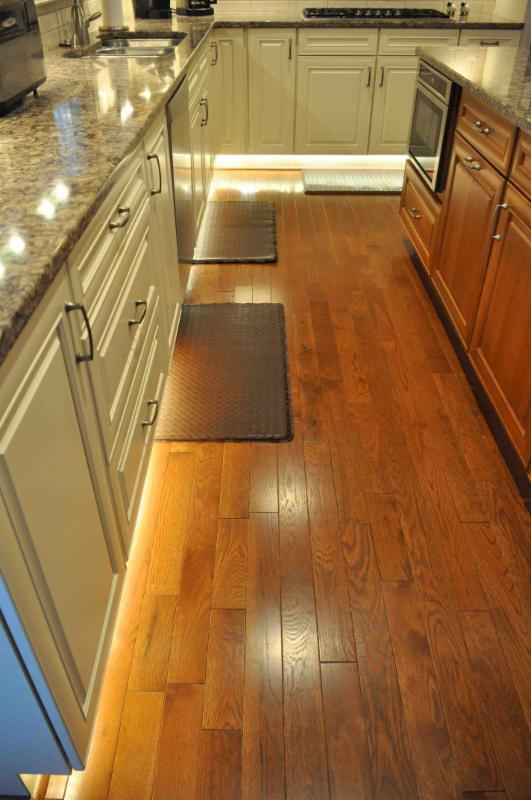 The Perries are very proud of how their remodeled kitchen turned out, so we asked them to share a little bit about their experience with Hatchett.
What was the best part of the design/remodeling process with Hatchett?
The most exciting part of the design was to see the new plan come alive and the space open up to include the things we had wanted but didn't feel our space would accommodate. The willingness of Jessica and Ron to redesign several versions to ensure it met our expectations was outstanding.

What did you like most about working with Hatchett's Design Team?
Hatchett was always willing to work with us on adjustments and tweaks.  Tommy, our construction foreman, was always willing to listen, answer questions and remained positive throughout the project.  The entire team was always willing to discuss the feasibility of an idea or explain why it might not work.  They made recommendations on materials and went out of their way to find the products we wanted.  They took the time to make the finished product customized for our height and use requirements.

What's your favorite part of your remodeled kitchen?
Our two favorite things about our new kitchen are the convenience of the layout and the 6 ½ foot spice rack in the closet… thank you, Tommy!

Hatchett can make you as happy as the Perries! When you're ready to renovate your kitchen, reach out to Hatchett's Design Team at our Newport News or Virginia Beach showrooms.