This time of year is ideal for tackling some tasks that will boost your home's curb appeal. Our design team at Hatchett Design Remodel has a list of the top 5 ways you can make your home more inviting.
Entry Door
Curb appeal is the first impression your home makes on visitors, and your front door sets the tone. Entryway doors are so significant, in fact, that according to the 2019 Cost vs. Value Report, homeowners can recoup up to 91.4% of the cost to install a new front door. The design of your front door should fit the architectural style of your home, and the color should pop. Pick a color that complements the overall color scheme of your house yet stands out. This HGTV article will provide some inspiration for choosing exterior paint colors.
Photo Credit HGTV on Pinterest
Landscaping
Your front yard has a big impact on your home's curb appeal. That said, it doesn't have to be extravagant. Basic lawn care like weed control and regular manicuring (mowing and edging) will boost your home's presentation. Adding flower beds, borders and well-placed bushes will take it up another notch.  Be mindful not to plant trees or bushes that will grow large and eventually block the view of your home from the street.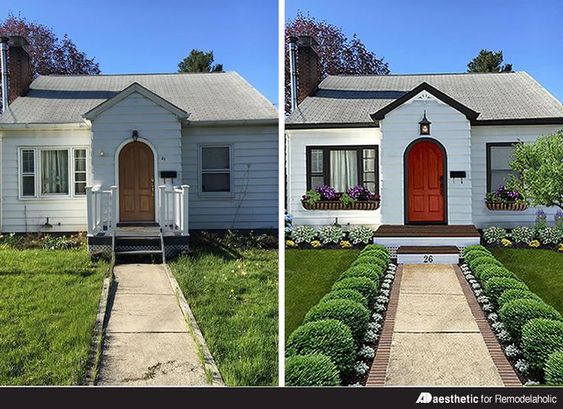 Photo Credit Remodelaholic on Pinterest
Lighting
A dark entryway is not at all inviting, so turn your entryway lights on at night. If you don't have light sensors or timers to keep your lights on when it's dark, there are dusk to dawn bulbs that will keep you from having to monitor turning the lights on and off. Keep your light fixtures clean of spider webs and other debris. To really freshen up your curb appeal, replace your old sconces and entry pendant lights with statement fixtures. Solar powered luminaries along the walkway are a nice touch as well.
Photo Credit Most Lovely Things on Pinterest
Update Accessories
House numbers and mailboxes often get a little tattered from outside elements. The good news is that these items are super easy to replace. There are a variety of options available online, so don't just settle for whatever you can pick up on the local big box store. Take some time to look for accessories that will add some personality to your curb appeal.
Photo Credit Modern House Numbers
Outdoor Decor
Too much outdoor decor can make your house look junky and cluttered. On the contrary, too little can make it look like you just moved in and aren't yet settled. Choose your outdoor furniture, pillows, potted plants, wreaths, and signs wisely. Guests shouldn't have to maneuver around anything to reach your front door. It's also important to keep these items clean for them to be truly welcoming.
Photo Credit Plank & Pillow
A home with good curb appeal shows pride in ownership. Keeping your home up to date – inside and out – will bring you great joy while increasing your home's value. For more ideas on keeping your home up to date, reach out to Hatchett Design Remodel at our showrooms in Newport News or Virginia Beach… it costs nothing to ask!