The Burkes love their home in Virginia Beach, but they decided it was time to give their master bathroom a refresh. Features like the built-in tub, framed shower enclosure, full wall vanity mirrors and bold striped wall paper dated the space. They reached out to Hatchett Design Remodel to see what it would take to bring their bathroom back into style.
After the initial consultation, our design team determined that we could completely revamp their bathroom without changing the footprint at all. Ashley, the designer, created photo-real renderings that illustrated exactly what the Burkes wanted.
Design Rendering of Burke Bathroom
Design Rendering of Burke Bathroom
Mrs. Burke wanted a free-standing tub, but she didn't want to give up the ledge space of the old tub deck. Ashley created a compromise by mounting the faucet in a tile deck behind the freestanding tub, so Mrs. Burke can now enjoy the best of both worlds.
The base of the vanity is similar to the previous vanity, but with updated materials and upgrades, such as the drawer outlet. This is a fairly simple amenity to add-on, especially for the convenience it brings to your daily hair drying routine.
While she couldn't wait to get rid of the full wall mirror over the vanity, they were gonna miss the functionality of having a large mirror in their bathroom. Ashley to the rescue again! She custom designed the center wall cabinet to mimic one that Mrs. Burke found in a magazine.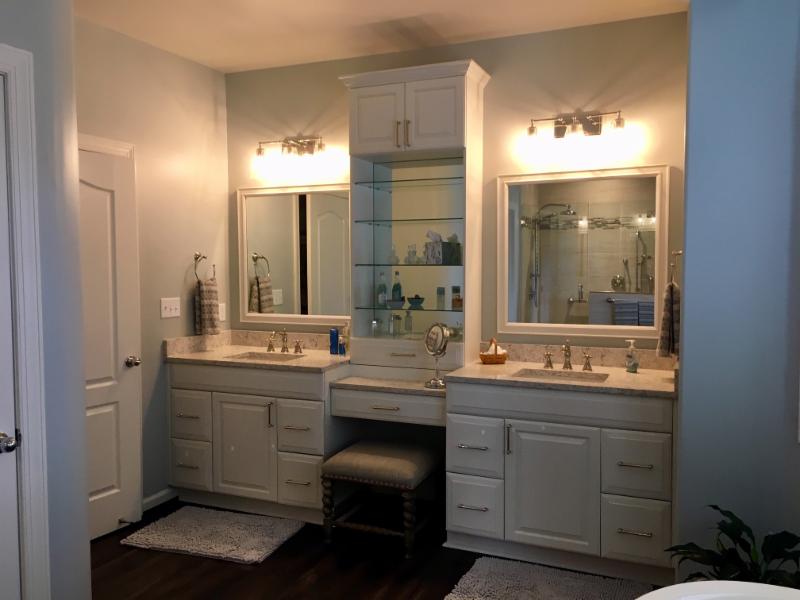 The custom cabinet came from Ultracraft. Then Custom Closet & Glass installed the mirror and the glass shelves when they were there to install the glass enclosure for the shower.
The Burkes are very pleased with their newly remodeled bathroom. And as always, we're very pleased with our design team: Ashley, Designer; Ron, Remodeling Consultant; and Dennis, Project Manager. Another job well done!